Best Price Extract Powder CAS 442-51-3 Harmine Extract 98% Harmine
Cas No.:442-51-3
Molecular Formula:C13H12N2O
Purity:98% min
Molecular Weight:
Inquiry
Product Details
Appearance:Fine Powder
Throughput:10|Metric Ton|Month
Application:1. Applied in Medicine and health products. 2. Applied in food & pharmaceutical field.
Delivery Time:3-5working days
BASIC INFORMATION
Name: Harmine
Alias: Haer Ming alkali, alkaline meat Ye Xiang, Harmine
Formula: C13H12N2O
Molecular weight: 236.7
CAS :442-51-3
Melting point 262-264 ° C (lit.)
Source: Zygophyllaceae Peganum L. harmala Peganum harmala L. seeds.
Harmine Extract, also known as telepathine, a fluorescent harmala alkaloid belonging to the beta-carboline family of compounds. It occurs in a number of different plants, most notably the Middle Eastern plant harmal or Syrian rue (Peganum harmala) and the South American vine Banisteriopsis caapi (also known as "yage" or "ayahuasca"). Harmine reversibly inhibits monoamine oxidase A (MAO-A), an enzyme which breaks down monoamines, making it a RIMA.
FUNCTION
1. It inhibits phophodiesterase and increases cAMP & cGMP levels, thus reduce the level of free radicals.
2. It depresses the amplitude of the action potential and the maximum velocity of the upstroke.
3. It possesses cytotoxic and genotoxic activity, helpful to cure tumor cells.
APPLICATION
1. As raw materials of drugs for lowering blood pressure and Alzheimer's disease, it is mainly used in pharmaceutical field;
2. As active ingredient of products for improving blood circulation and benefiting stomach, it is mainly used in health product industry;
3. As food supplements and natural pigment, it is widely used in food industry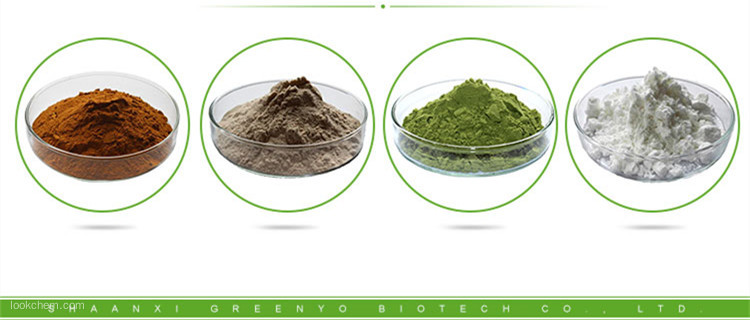 Q&A.
Q1:Can I get a sample
A: Of course. For most products we can provide a free sample, while the shipping cost should undertake by your side.

Q2:What's your MOQ
A:Mostly MOQ is 1kg, but we also accept less quantity like 100g on the condition that a sample charge is 100% paid.

Q3:Do you accept VISA business credit card
A:Sorry we don't accept VISA credit card,we'd like to accept T/T, Western Union or Paypal
Q4: What's your delivery time
A:We will make delivery within 3 to 5 days after payment confirmed (Chinese holiday are not included).

Q5:How long does it take to the goods arrived
A:It is Depending on your location,
For small order, please expect 5-7 days by DHL,UPS,TNT, FEDEX, EMS.
For mass order, please allow 5-8 days by Air, 20-35 days by Sea.

Q6:How do you treat quality complaint
A:First of all, our QC department will do strict examination of our export products by HPLC, UV, GC , TLC and so on in order to reduce the quality problem to near zero. If there is a real quality problem caused by us, we will send you free goods for replacement or refund your loss.