Bulk Erythritol/Erythritol Powder/Erythritol Sugar
Cas No.:149-32-6
Molecular Formula:C4H10O4
Purity:98%min
Molecular Weight:
Inquiry
Product Details
Appearance:White powder
Throughput:100|Metric Ton|Month
Application:Sweeteners
Delivery Time:3-5working days

| | |
| --- | --- |
| Product Name: | Erythritol |
| CAS: | 149-32-6 |
| MF: | C4H10O4 |
| MW: | 122.12 |
| EINECS: | 205-737-3 |
| Product Categories: | Sugars, Carbohydrates & Glucosides;Biochemistry;Erythrose;Sugar Alcohols;Sugars;Food & Flavor Additives;Food additive and sweetener;Inhibitors |
| Melting point | 118-120 °C(lit.) |
| Boiling point | 329-331 °C(lit.) |
| density | 1,451 g/cm3 |
| color | White to off-white |
| Water Solubility | soluble |
Erythritol, sugar alcohol is a kind of newly developed 4 carbon sugar alcohol, can be made by the fermentation of glucose, white crystalline powder, with a sweet and refreshing, not easy to moisture absorption, high temperature stability, stable in a wide PH range, dissolve in the mouth with a mild cool feeling, suitable for a variety of food.
Main properties
(1) low sweetness: the sweetness of erythritol is only 60% to 70% of sucrose, and the entrance has a cool taste, pure taste and no aftertaste.
(2) high stability: the acid and heat are very stable, the acid and alkali resistance are very high, and the decomposition and change will not occur under the temperature of 329 degrees.
(3) high solution heat: erythritol is dissolved in water with an endothermic effect. The solution heat is only 97.4KJ/KG, which is higher than the absorption heat of glucose and sorbitol, and has a cool feeling when eaten.
(4) high solubility: 25 ℃ erythritol, the solubility of sugar alcohol is 36% (W/W), erythritol, sugar alcohols solubility increases, a rise of temperature than glucose, mannose, Arabian sugar alcohols solubility is high, easy to crystallization precipitation crystals.
(5) low hygroscopicity: erythritol, sugar alcohol is very easy to crystallization, but none in 90% humidity environment moisture absorption, easy to crush get powder products, can be used for sour food surface to prevent moisture absorption.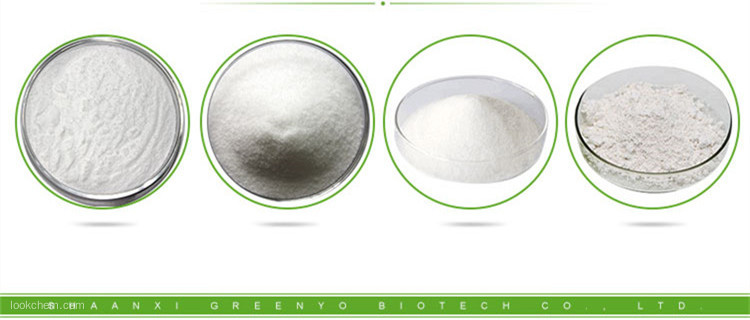 Q&A.
Q1:Can I get a sample
A: Of course. For most products we can provide a free sample, while the shipping cost should undertake by your side.
Q2:What's your MOQ
A:Mostly MOQ is 1kg, but we also accept less quantity like 100g on the condition that a sample charge is 100% paid.
Q3:Do you accept VISA business credit card
A:Sorry we don't accept VISA credit card,we'd like to accept T/T, Western Union or Paypal
Q4: What's your delivery time
A:We will make delivery within 3 to 5 days after payment confirmed (Chinese holiday are not included).
Q5:How long does it take to the goods arrived
A:It is Depending on your location,
For small order, please expect 5-7 days by DHL,UPS,TNT, FEDEX, EMS.
For mass order, please allow 5-8 days by Air, 20-35 days by Sea.
Q6:How do you treat quality complaint
A:First of all, our QC department will do strict examination of our export products by HPLC, UV, GC , TLC and so on in order to reduce the quality problem to near zero. If there is a real quality problem caused by us, we will send you free goods for replacement or refund your loss.